Saya rindu mak saya.. hiks.. sebenarnya rindu kepada kuih cara berlauknya yang lama dah dia tak buat untuk saya makan. Makanya, saya telah menggunakan inti yang mak saya tak pernah ajaq saya buat, tapi akhirnya saya berjaya buat. Saya tak pasti ni ayat apa.. tragis ka apa. Tapi, saya simpulkan bahawa merindui masakan mak saya adalah sama saya merinduinya. Malah lebih lagi merindui mak itu. Sob sob sob.. saya buat ni, tapi tak dan nak pos ke mak saya untuk dia rasa ayaq tangan anak dia yang comel ni. Hahah. Ni percubaan pertama. Agak berderemen sikit, orang kedah kata.. comot lah tu maknanya. Wiken nanti saya akan buat dan hantaq kat mak saya, InsyaAllah. Jauh menyimpang nih. Back to the kuih cara berlauk nih, saya telah menggunakan Kak Rinn punya resipi untuk bancuhan tepung. Untuk pengisian inti, sila rujuk
sini.
Jom layan resipi... zass!
Oopss.. Sebelum lupa, selamat menyambut Kemerdekaan Tanahair. Selamat memerdekakan diri dari segala unsur yang tak baik, selamat bercuti dan selamat membuat kuih raya.. heheh.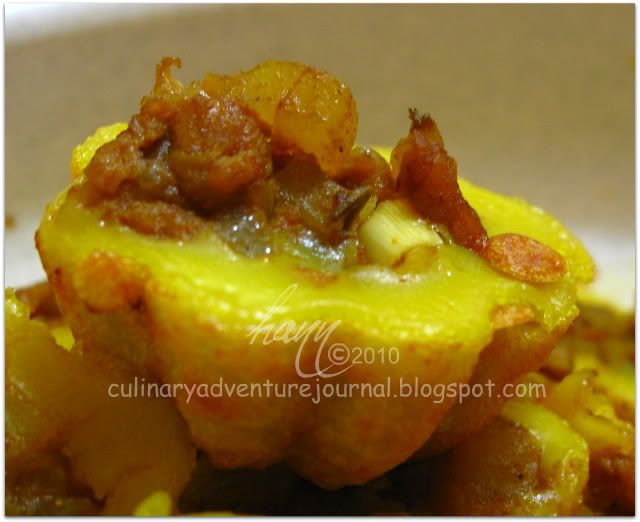 Bahan-bahan :
2 cawan tepung gandum
2 cawan air
1 cawan santan
1 biji telur
1 sudu teh garam
Sedikit pewarna kuning – saya gunakan serbuk kunyit
Penyediaan :
Masukkan tepung dan bekas.
Masukkan telur, garam dan pewarna.
Tuang santan dan air sikit-sikit dan kacau hingga nampak bagus untuk dituang. Maksud saya, Nampak macam cair macam tu lah.
Enjoy!
p/s : Sori ye kengkawan. Makcik penin sikit.. sedang cuba untuk melupakan kejadian melecture lecturer itu.. hahah. Tobat penin nih.