Lately nih kite tak rajin update blog. Dapur pun kurang berasap. Sebelum nih asik makan kenduri je sejak cuti sekolah yang lepas. Makanan free pon banyak. Kalau takat goreng ikan lumoq garam ngan kunyit, tak gamak la pulak nak bubuh dalam blog nih.. hehe.
Well, untuk kali ni, walaupun menyedari akan kadar tumbesaran kite yang sedang mencanak naik, kite buat gak Apple Crumble ni setelah tengok kat
zarin
,
Lady
and yang terlatest ni
kak Kasih
dah buat. Oh.. depa main display-display pulak.. Apple ni kite tak sempat nak kutip kat ladang anie, dia offer lambat.. hehe
Kite guna resipi cik
Lady
. Tq dear! I copy dan lekat kat sini jek.
Bahan-bahan:
Source: Periuk Belanga Zarin
3 biji apple hijau
Setengah cawan gula
1-2 kuntum bunga cengkih
1/4 cawan gula
3/4 - 1 cawan tepung gandum
1 tbsp butter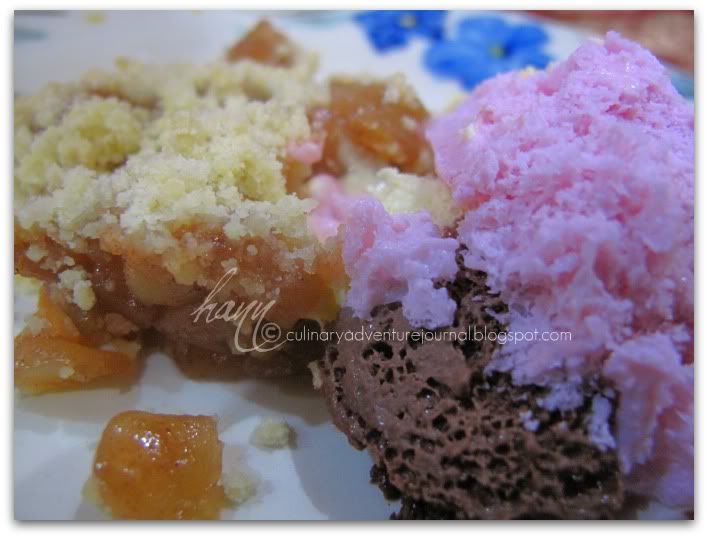 Cara-cara:
Kupas apple dan potong dadu. Masukkan apple, gula dan bunga cengkih ke dalam pan and stew gently sampai apple lembut, jangan sampai hancur. Padamkan api dan sejukkan.
Dalam bekas lain, masukkan butter, gula dan tepung gandum sedikit demi sedikit dan jadikan ia seperti bread crumbs dengan jari jemari. Stop adding tepung gandum bila campuran tu dah jadi macam bread crumbs.
Masukkan stewed apple ke dalam bekas untuk dibakar dan cover dengan crumble toppings, tak perlu tekan. Bakar hingga topping berwarna golden brown. Hidangkan dengan vanilla sauce or vanilla icecream.
Enjoy!