A long overdue entry. Akhir Syawal baru nak publish. Kualiti gambar buruk, sebab tu jadi macam malas je nak mengentrikan kek nih. Tak pa lah. Regardless of the gambar, saya upkan jugak entry nih.

Pinjam resipi Mat Gebu. Berkenan sebab asik kontroversi je. Best kek nih. Mak saya layan sakan.

Tengok resipi Mat nih. Tanpa derhaka, saya buat sebijik macam Mat arahkan.


Bahan-bahan :


375 gm buah-buahan campuran/mix fruit

250 gm mentega "Golden Churn"

300 gm tepung gandum*

1 camca teh sodium bikarbonat*

1 camca teh cream of tartar* (*disatukan dan diayak)

3 biji telur gred A

150 gm gula kastor (boleh juga guna brown sugar)

150 gm gula pasir (untuk gula hangus)

¼ cawan badam keeping (almond flakes)

1 biji buah pala, diparut (saya gunakan serbuk buah pala)

Ceri merah/hijau untuk hiasan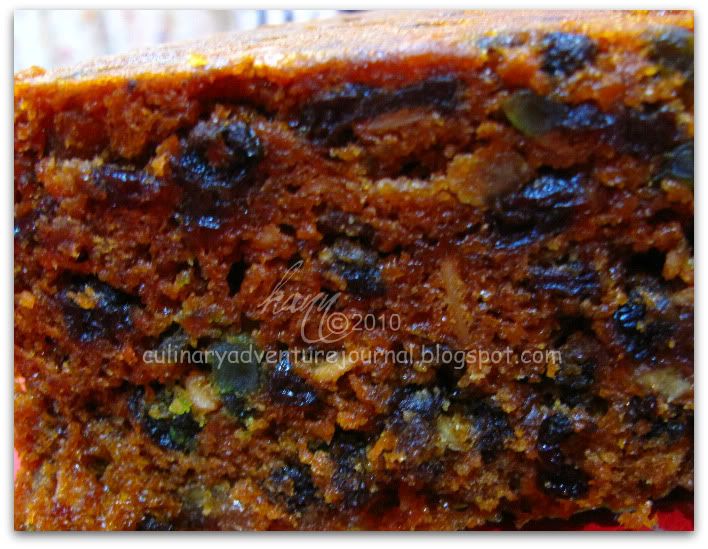 Penyediaan :


Didihkan air di dalam kukusan. Lenser tin berukuran 8 x 8 x 3 inci dengan mentega, alas dasar tin dengan kertas minyak, lenser juga kertas tadi.

Tepung digaul bersama cream of tartar dan soda bikarbonat dan diayak. Parut biji pala dan gaul rata. Masukkan buah-buahan campuran dan badam keeping ke dalam tepung. Gaul rata. Ini bertujuan untuk mengelakkan buah-buahan tadi mendak dan tidak berterabur

Putar mentega bersama gula halus hingga kembang. Masukkan telur satu persatu sambil terus memutar hingga gebu. Jarak waktu untuk setiap telur adalah 1 minit. Putar rata.

Pada kelajuan perlahan, masukkan campuran tepung dan buah-buahan serta almond flakes tadi. Gaul hingga rata dan metikan mixer.

Masak gula pasir tadi dengan api sederhana hingga caramel bertukar menjadi coklat keemasan.Tuang dalam adunan kek tadi dan onkan mixer, putar rata. Berhati-hati ketika memasak dan menuang gula hangus kerana panas dan merbahaya.

Alih adunan ke dalam tin. Jika suka, hiaskan dengan buah ceri, susunkan. Tutup dengan aluminium foil, kemaskan dan ikat kelilingnya dengan tali rafia.

Kukus 4 jam. Lepas sejam, periksa air dalam kukusan, tambah menggunakan air panas juga,jangan guna air sejuk.


Bila masak, keluarkan kek dan biar sejuk sepenuhnya. Bungkus dengan plastic cling dan simpan dalam bekas yang sesuai.



Enjoy!