Hehehhe.. Cool kan tajuk nih? Rata-rata yang saya jumpa, tak suka dengan petai.. sebab utama.. apa lagi.. busuk lah. Saya akui.. busuk.. tapi yang busuk tu, selalunya orang kata ubat.. dan sangat mujarab pulak tu! Tapi, kalau masak petai ni, nak kurangkan bau busuknya, kalau ikut mak saya, petai digoreng dulu sebelum proses menumis dimulakan. Ada restoran kat sini, kalau masak sambal tumis udang berpetai, petainya tak busuk.. hehhe.. petuanya campurkan sikit terung ke dalam masakan tersebut.. ni saya akui.. dah try.. and kurang banyak bau yang kurang menyenangkan itu.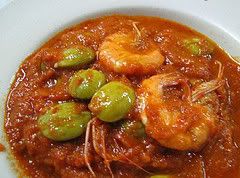 Kebetulan saya terjumpa artikel yang hamper meragut pernafasan saya.. Konon, saya ni baru nak berenti makan petai.. tapi baru ni mula balik sebab kat restoran tu kurang bau tersebut.. Tapi artikel ni telah menggoda saya untuk meneruskan pemakanan itu.. Hahahha.. pening kan? Baru nak berenti.. (bukan.. kurangkan..) dah ada benda lain pulak cucuk..

Kata artikel tu.. petai kaya dengan antioksida. Zat antioksida tersebutlah yang telah bertanggungjawab untuk melumpuhkan aktiviti radikal bebas superoksida hingga lebih dari 70%. Selain itu, di dalam petai juga ditemui asid amino "triptofan" di mana ia akan berubah menjadi hormone serotonin. Hormon inilah yang membuat kita merasa relaks, nyaman dan mood menjadi lebih baik.. (oh! Sungguhkah!??) Bukan itu sahaja, kandungan kalium yang tinggi pada petai juga bagus untuk penderita hipertensi. Namun begitu, sehingga kini masih belum ada data yang dapat memastikan berapa banyak petai yang harus diambil untuk melawan efek penuaan. Bagaimanapun, anda boleh mengamalkannya kerana petai juga berkhasiat untuk kesihatan.

Begitulah kisahnya.. to conclude.. dalam busuk dia pon masih menyumbang kearah kebaikan.. kan? Ada jugak yang wangi, Nampak cantik.. tapi tak contribute pun ada juga. Maka, setelah kita mengetahui kebaikannya, maka.. selamatlah memasak petai.. Buatlah yang terbaik! Semoga kita akan sentiasa rasa muda, jadi muda dan kelihatan muda.. (tagline sapa tah.. tak ingat.. pinjam kejap!)

Selamat beramal!