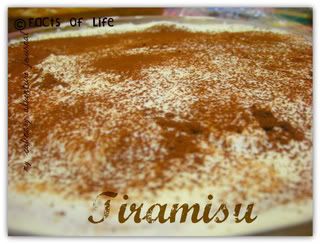 "T

iramisu

is a cool, refreshing Italian dessert that once tasted, leaves an indelible impression on you."

Juga didescribe as Heaven in your mouth.

Menengok kepada deskripsi yang sungguh menggiurkan ini, membuatkan saya berhajat amat nak buat. Tapi, bile tengok bahan-bahan di dalam resipi di internet, dan pernah jumpa yang menggiurkan juga di Majalah Sedap.. apatah lagi melihatkan "tajuk" keju mascarpone yang digunakan.. dan harga mascarpone itu sendiri bila terjumpa di Tesco.. rasa macam terbantut sekejap. Mahal mascarpone tu.. dan untuk percubaan kali pertama.. takut pulak tak jadi nanti.. Reserve resipi tu sekejap.

Kemudiannya bila tour around, jumpa kengkawan buat tiramisu ni .. dapat dari Kak Umie_e di Myresipi. Beliau dah gantikan the mascarpone cheese tu dengan whipping crème dan Philadelphia cheese, atau lebih dikenali dengan nama crème cheese.

Sebelum lupa, untuk maklumat tambahan ja ni.. mascarpone cheese adalah a triple-creme cheese. It's made from the milk of cows that have been fed special grasses filled with herbs and flowers. This special diet creates a unique taste that has been described as "fresh and delicious." Mak aii.. triple crème.. Kalau hari-hari makan ni mau membulat sakan.. Resipi ni juga gunakan biskut Ladyfingers sebagai bahan layer Tiramisu. Ladyfingers-- known in Italy as "savoiardi" -- are sweet, little, fairly dry, finger-shaped sponge cakes.

Untuk tujuan ni, kak umie_e dah banyak menyimplekan resipi, dan rasanya sungguh hebat di alam semesta. True.. it's heaven in the mouth.

Jom tengok resipi.

Bahan-bahan (Untuk 8 orang atau lebih)

1 biji sponge cake atau apa-apa jenis kek

250 ml whipping crème (saya guna kotak kecil.. ada 200 ml sahaja)

200 ml crème cheese (saya guna 250 gm / 1 ketul crème cheese)

½ cawan gula halus (this is just nice rasanya)

1 cawan air panas (untuk membancuh Nescafe)

1 sudu makan serbuk Nescafe

Penyediaan :

Bancuh Nescafe dengan satu cawan air panas tadi. Ketepikan sebentar.

Satukan gula, cheese dan cream. Pukul adunan sampai kembang.

Potong kek kepada 3 bahagian. (Saya buat 2 bahagian sahaja)

Tuang 1/3 bahagian bancuhan Nescafe atas kek.

Tuang 1/3 bahagian crème cheese di atas kek tadi.

Susuan sebahagian kek lagi, dan ulangkan langkah yang sama sehingga habis.

Masukkan di dalam peti sejuk sekurang-kurangnya selama 2 jam atau semalaman.

Taburkan serbuk koko apabila hendak menghidangnya.

Enjoy!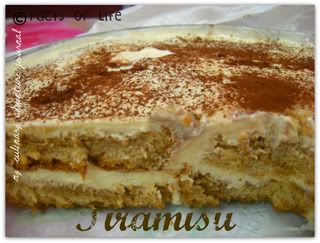 Keratan rentas keadaan geografi Tiramisu
Dr. Basri.. pakar dalam kulinari dan hospital..liti..
tengok la perubahan rupa dia yang sungguh teruja dengansesi food tasting nih.
Kak Yati yang dah mengabiskan slice yang kedua.. nak masuk round three dah.
Nota : TQ to all yang sudi merabiskan banana cake dan tiramisu ni.