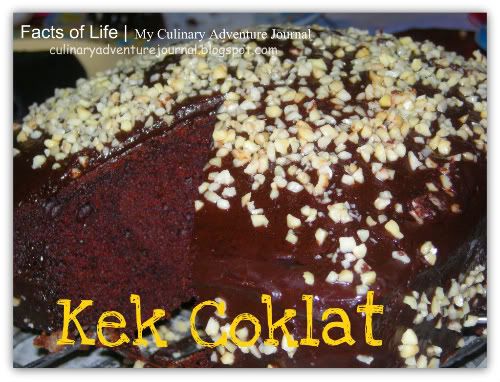 Tetiba pada suatu petang.. teringat macam nak buat kek coklat.. macam tempting la pulak.. Terus skodeng dapur kawan-kwan and cari resipi yang sesuai dengan bahan-bahan yang ada. Sudahnya end up kat allrecipes.com and jumpa resipi ni. Bagus jugak untuk di try. Feedback dari yang telah mencuba di allrecipes.com pun macam bagus je.. Bila dah siap.. Nampak sangat best. Tapi to be true, sebenaqnya tak le moist sangat.. just nice ke"moist"annya. Melalui kengkawan yang test cake ni.. depa suka sebab not too moist. Well.. apa pon.. try lah.. Personally, saya juga suka tekstur kek ni yang tak over moist..

Since saya gunakan tepung naik sendiri (masa nak buat baru perasan tepung gandum dah habis..), menurut Dr Basri, tekstur kek kurang "smooth". Katanya juga kalau guna tepung gandum, akan sikit baik dari tepung naik sendiri. Tapi kalau nak tekstur kek lebih smooth, katanya lebih baik gunakan tepung kek.. Input ni bagus untuk orang yang tak pandai masak macam saya ni. Lagipun, rasa yang dibuat ni dah elok benar, daripada kek ni terbantut tumbesarannya. Memandangkan kali ni kek ni naik dengan indahnya.. makanya in the next time round, kita cuba tepung kek pulak.
Jom tengok resipi :

1 cawan marjerin/mentega

1 ¾ cawan gula (saya reduce kepada 1 ¼ cawan)

3 biji telur

1 ½ sudu teh esen vanilla

1 ½ cawan susu (saya guna susu segar)

2 ½ cawan tepung serba guna (saya guna tepung naik sendiri)

6 sudu besar serbuk koko

1 ½ sudu teh soda bikarbonat

1 sudu kecil garam

Penyediaan :

Panaskan oven pada suhu 175⁰C/350⁰F. Griskan loyang 9 x 13 inci dengan sedikit mentega dan juga tepung.

Ayak tepung serbuk koko, soda bikarbonat dan garam. Ketepikan.

Dalam mangkuk yang besar, pukul marjerin dan gula hingga ringan dan kembang (light and fluffy).

Masukkan telur sebiji demi sebiji.

Masukkan esen vanilla.

Masukkan pula tepung yang telah diayak tadi, berselang seli dengan susu. Pukul sehingga adunan menjadi sebati.

Tuang ke dalam loyang tadi, dan bakar selama 40 – 45 minit atau sehingga kek masak (test dengan cucukkan lidi kat tengah tepung.. kalau dah tak melekat, maknanya masak lah tu..

Sejukkan dan boleh letak topping kalau nak.

Bahan-bahan topping :

½ cawan coklat masakan

Susu pekat (ikut kesesuaian dan kemanisan yang dikehendaki)

1 sudu besar minyak masak atau mentega

Penyediaan :

Campurkan semua bahan di dalam bekas. Masak secara bain marie, atau double boiler. Kacau hingga semua bahan sebati. Dan bolehlah sapu topping di atas kek berkenaan. Boleh juga tabur accessories mengikut kesukaan.