Menengok kat tajuk je, ramai dah tau, ni Mat Gebu penah buat. Kite pun teruja gak nak buat. Cuma tak berapa nak rajin. So, nak raya ni macam tetiba kena rajin sebab mak kite suka dengan kek yang ada tajuk coklat nih. Dengan gigihnya, kite dah buat. Lambat nak publish kat sini sebab teruk kena audit dengan SIRI* kemarin.. Tobat best kek nih.. cayaq kat dalam mulut.. nyaman-nyaman je makan., macam tak ingat dunia. Rupa paras kek nih tak le secantik Mat
punye
. Tapi rasa sama macam Mat punya kek, sebab kite ikut resipi dia.. heheh.. dengan ini juga kite rakamkan tengkiu kepada kengkawan Mat yang telah mendahului Mat membuat kek ini, sehingga sampai ke tangan kite. Tengkiuss. Ampun ye kengkawan.. tetiba kata ganti diri tertukaq ke "kite" pulak. Acilah eek? hehe.. Layan resipi..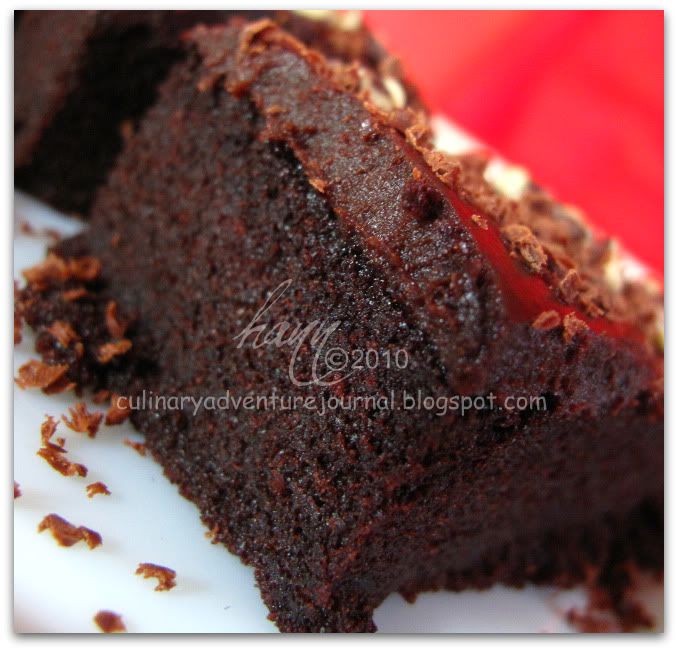 BAHAN-BAHAN:
1 cawan mentega, dicairkan
3 biji telur, grea A
1 3/4 cawan gula halus
2 cawan tepung gandum

*



1 cawan serbuk koko

*



1 camca teh baking powder

*



1 camca teh soda bicarbonate

*

(*disatukan dan diayak)
1 cawan air panas mendidih
1 cawan susu cair (mat guna jenama "Ideal")
1 camca teh esen vanilla
Secubit garam
BAHAN GANACHE :
300 g coklat masakan

*



1 camca teh mentega

*



3 - 4 camca besar susu cair

*

(*satukan dan masak dengan kaedah double-boiler hingga coklat cair, kacau rata dan boleh digunakan)
BAHAN HIASAN :
Strawberry secukupnya
Chocolate curls secukupnya
PENYEDIAAN :
Putar telur dan gula hingga kembang, masukkan esen vanilla dan putar rata. Masukkan susu, garam dan mentega cair tadi, kacau rata.
Masukkan tepung tadi sedikit demi sedikit sambil dikacau dengan kaedah kaup balik, hingga sebati. Akhir sekali masukkan air panas dan kacau rata, tuang dalam "bundt pan" berukuran 10 inci yang telah dilenser..boleh lihat contoh di sini....

Bakar pada suhu 160C selama 50 - 1 jam atau hingga masak. Sejukkan dahulu sebelum dikeluarkan dari tin. Hias dengan chocolate ganache, chocolate curls dan strawberry. Boleh dihidangkan.
Nak pesan, jika bakar guna tin aluminiun biasa, alas dasar tin dengan kertas minyak dan sapu dengan sedikit mentega dan bakar suhu pada 175C. Kalau guna tin yang warna hitam, guna suhu seperti yang disyorkan dalam resipi, 160C... Selamat mencuba!.
Enjoy!
p.s : Tribute to Mat sebab saya kopipes and edit mengikut format saya.. hiks..