Dah lama terasa nak mengunyah muffin ni. Of the banyak-banyak muffin, yang ni lah rasanya saya paling suka. Tapi semalam buat di dalam keadaan yang agak layu.. tak larat, tapi buat juga demi nak membuka mata.. maka sudahnya muffin ada yang naik senget sebelah.. hahahha.. tau kenapa? Tepung semalam malas nak ayak.. tu lah benaqnya.Apa pun, rasa memang best! Tak ingat resipi ni masa saya mula tulis dulu dipetik dari mana, yang saya ingat, saya menyusup masuk dapur kak Rinn and dapur Mat Gebu jugak. So, apa pun, tribute untuk mereka. Jom layan resipi.
Saya buat separuh daripada adunan di bawah.
Bahan-bahan :
280 gm butter
240 gm gula castor
4 biji telur
2 canca teh esen vanilla
250 ml susu segar
400 gm tepung gandum
4 camca teh baking powder
Jem blueberry
Penyediaan :
Ayak tepung gandum dan baking powder sebanyak 3 kali. Ketepikan.
Pukul butter dan gula castor hingga berkrim dan putih gebu.
Masukkan telur satu persatu dan terus memukul adunan.
Masukkan esen vanilla dan susu segar. Pukul hingga sebati.
Kaup balikkan tepung ke dalam batter sedikit demi sedikit. Jangan terlebih mengadun.
Isikan adunan ke dalam bekas muffin separuh penuh. Sudukan sedikit blueberry filing dan tutupo dengan batter hingga ¾ penuh.



Bakar pada suhu 180°C selama 20 – 25 minit.



Enjoy!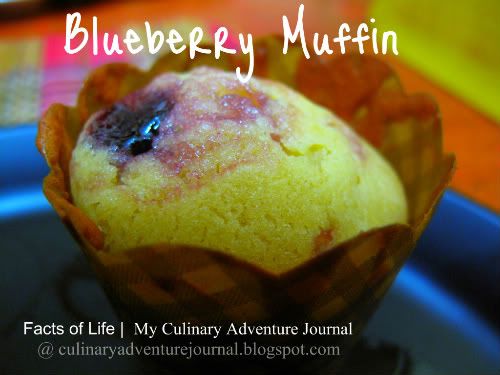 Kan dah cakap.. senget..
Moral of the story.. jangan malas mengayak tepung..
yang kat atas tu ok.. naik elok..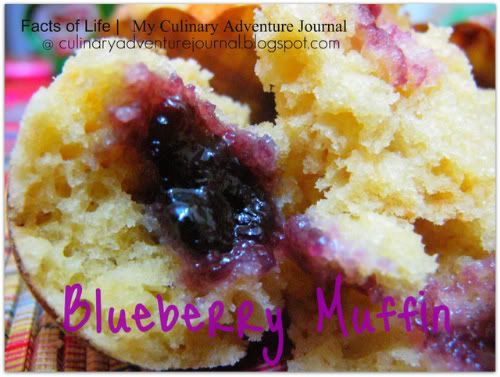 Keratan rentas muffin ini