Dah lama tak pergi kursus.. bukan kursus je.. Outing pon dah lama tak masuk dalam senarai.Outing ni adalah jenis yang tergolong dalam seksyen berkursus atau mesyuarat bersama dengan kawan-kawan.
So, the last 24 Feb, dengan jayanya gue telah bercanda dengan Kak Wan ke KL. Mujur jugak boss approve untuk pi kursus aka bersukaria dan berpoya2.. hahahha.. with condition,Kena naik firefly.. Well.. ok lah.. janji boleh keluaq dari pejabat sat.
Firefly landed di Subang Airport.. nama baru adalah Skypark..Kami mola cari makanan dulu.. Singgah di Nooodles.. Saya makan Mee Tomyam (pesan tanpa perasaan) dan Kak Wan order Mee Kari.

For the Mee Tomyam.. buleh gagah la.. sedap lagi kat kedai bawah pokok kat sini aka Jaguh Tomyam kat sini. As for the Mee Kari.. Yummy! Kak Wan sampai teringat2 bila balik hotel.
And in fact bila nak balik Kedah pon dia dok ingat lagi kat Mee Kari tu..(Mee Kari tu tak ingat kat dia pon.. hahhahah). If kami balik melalui skypark, for sure akan singgah and makan kat situ lagi. Memandangkan waktu balik adalah menghala ke KLIA, dan masa yang ada hanya sempat untuk kejar flight ja.. makanya kami bedua balik dengan teringat2 la kat Nooodles tu.

Overall.. ok lah... boleh kasik 3 bintang setengah..

Jom layan gambar..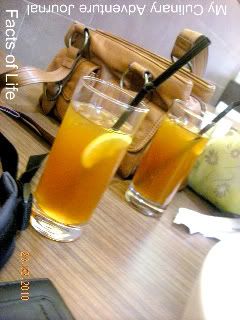 Ice Lemon Tea

Kak Wan is enjoying her Mee Kari..
Tengok la mangkuk tu.. Gillaaa besaq..