Sebetulnya dah lama berangan nak menjadikan benda alah ni kenyataan. Tapi tu lah, namaya pun berangan.. Cuma few days lepas dapat merealisasikan keberanganan itu. Tu pun macam nak buat untuk dibawa ke jamuan jiran tetangga.
Kebetulan entry kali ni sama dengan
Cik Lady of Leisure
punya.. Sama-sama guna resipi
Cik Mat Gebu
. Tapi puff Lady posing anggun. Saya punya just like kalut buat, and kalut ambik gambaq sebelum hantar semua puff tu pi rumah jiran.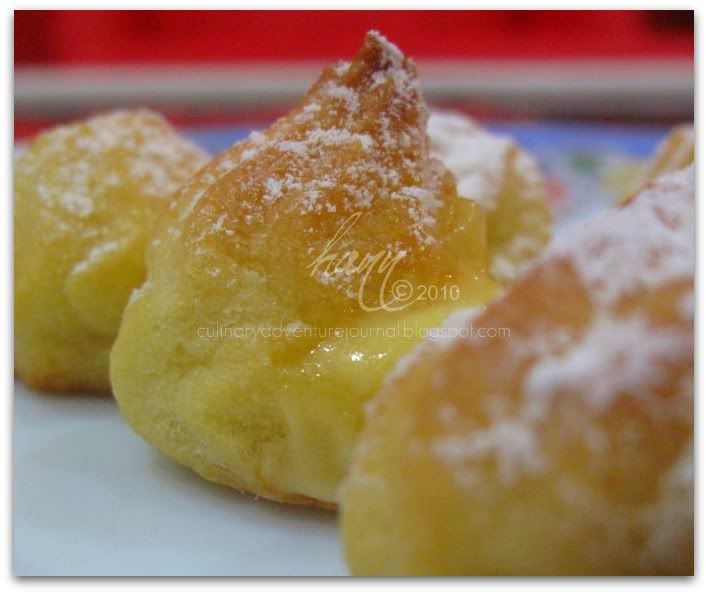 Saya copy Cik Mat punya resipi dan lekatkan di sini saja. Tq Cik Mat.
Bahan-bahan :
BAHAN CREAM PUFF :
50 gram mentega
125 ml air
1/3 camca teh garam
75 gram tepung gandum, diayak
1 biji telur + 1 kuning telur, dikacau sebati
1/2 camca teh esen vanilla
BAHAN CUSTARD CREAM :-)
1 kuning telur
150 ml whipping cream
1 1/4 camca besar tepung custard
25 gram gula halus
1 camca besar parutan keju cheddar
1/2 camca teh esen vanilla
CARA MEMBUATNYA :-)
UNTUK CUSTARD CREAM :- Satukan semua bahan2 untuk custard cream, kecuali keju, kacau dengan whisk hingga semua sebati. Masak atas api kecil hingga panas. Masukkan keju dan terus mengacau hingga bancuhan menjadi pekat. Bila whisk diangkat, adunan jatuh bertali. Alih custard dalam bekas dan tutup dengan plastik cling, tujuan untuk mengelakkan custard tadi ber"kepala" (atau permukaannya menjadi keras). Ketepikan.

UNTUK CREAM PUFF :- Satukan air dan mentega, jerang hingga mentega cair. Masukkan garam dan juga tepung tadi, kacau dengan senduk kayu sehingga adunan menjadi bancuhan kental yang tidak melekat di periuk, gunakan api perlahan. Matikan api, alih adunan ke dalam mangkuk pemutar. Bila adunan suam, putar pada kelajuan sederhana, masukkan telur + kuning telur dan esen vanilla. Putar hingga sebati. Alih kan bancuhan ke dalam beg piping yang dipasang muncung bintang. Paipkan bentuk rosset berdiameter 2 inci atas dulang pembakar yang telah disapu sedikit mentega Buat hingga siap.

Bakar dalam oven yang telah dipanaskan pada suhu 200C selamat 25 minit, bergantung pada oven masing. Sejukkan atas jaringan, kemudian belah, isi ruang dalam cream puff dengan custard cream tadi, ayak sedikit gula aising sebagai penyeri...
Enjoy!