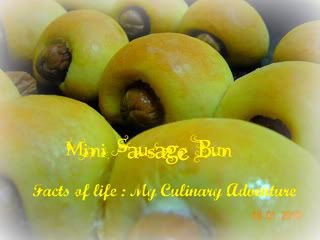 Hari tu tetiba.. tanpa disangka-sangka.. mood nak menguli tepung datang.. Bukan apa.. nak menghaluskan kulit tangan.. This is the best way. Sedap roti nih!
Dapat reseipi dari
Hana
. Tq ye. Here it goes :
250 tepung roti
6 gm yis kering
50 gm gula
50 gm butter
20 gm susu tepung
1 biji telur size s
70 gm water roux
½ sudu kecil garam
90 – 100 ml susu segar
Sosej secukupnya – Rebus dulu.
My uli method :
Campurkan semua, kecuali sosej, dan start lah menguli..
It's good kalau susu boleh dituang sikit-sikit and uli sampai doh tak melekat di tangan.
Biarkan buat sementara waktu hingga naik dua (2) kali ganda.
Panaskan oven, bakar pada suhu 180 degree C, selama 15 minit atau hingga masak.
Sebaik dikeluarkan dari oven, sapu butter agar berkilat dan sejukkan.
Water roux.
Yang ni ambil dari
cik mat
punya.. tq ye.. Saya kopipes je..
BAHAN "WATER ROUX" :-)
50 g tepung gandum*
250 ml air*(*disatukan, kacau rata dan jerang dengan api kecil sambil dikacau selalu hingga adunan bertukar menjadi seakan2 berkanji. Matikan api, sejukkan. Guna seperti yang disyorkan dalam resipi. Selebihnya ditutup dengan plastik cling dan simpan dalam peti sejuk. Boleh tahan 3 hari....
CARA MEMBUATNYA :-)
1.Satukan semua bahan di atas kecuali mentega, gaul rata hingga menjadi doh. Tambah mentega dan terus menguli hingga mendapat adunan yang lembut dan anjal (kurang lebih 20 - 25 minit), kemudian alih adunan ke dalam bekas dan tutup dengan plastic, biar kan 1 jam hingga adunan kembang. KAEDAH LAIN :- Masukkan semua bahan ke dalam bread maker, pilih setting untuk "doh" dan tekan "on". Biar hingga siap, dari proses mengadun, menguli dan memerap mengambil masa 1 jam 30 minit....(ikut BM memasing yeaa).
2.Keluarkan adunan, uli sekejap untuk membuang udara, biarkan 10 minit. Bagi2 adunan ke beberapa bahagian yang beratnya setiap satu 35g. Bulat2kan dan susun dalam tin yang telah disapu dengan sedikit mentega. Biarkan doh naik 2 kali ganda.
3.Bakar dalam oven yang telah dipanaskan pada suhu 190C selama 25 - 30 minit, bergantung pada oven masing2. Sapu mentega pada permukaan roti sejurus keluar dari oven. Sejukkan atas jaringan sebelum dihidang....